Gluten-Free Doughnut Holes ( Gluten-Free Doughnuts)
Prep 20 mins
Cook 40 mins
A Bette Hagman Recipe- a delicious treat. I had thought that doughnuts were on the forever-gone list until I tried these little morsels :) Best served hot, but still OK cold. They can be frozen, defrosted and reheated in the oven
Directions
Heat oil in a deep fryer (375°F ). You will need at least one -two inches deep of oil. Whilst the oil is heating, prepare the doughnut recipe. Do not leave the heating oil unattended.
Using a saucepan, heat the water and butter until boiling point is reached. Remove the saucepan from the heat.
Dump in the potato starch, sugar and salt. Stir until the mixture forms a ball and has pulled away from the sides of the saucepan. (Much like making a choux pastry).
With an electric mixer, add in the eggs -one at a time. Beat well between adding each egg.
Drop the batter into the heated oil by small rounded teaspoonfuls, a few at a time. The doughnut holes will puff up as they are cooking to about 1 1/2 inches. Turn them throughout cooking to brown evenly. They'll take approx 5 minutes to cook. Remove from the heat and drain on paper towels.
While still warm shake them in a plastic bag with cinnamon sugar (2 tablespoons of sugar to 1/2 teaspoon of cinnamon).
Reviews
Most Helpful
I made these to go along with my Buttermilk Doughnuts Donuts at my daughter's sleepover since one of the girls was gluten intolerant. I've never baked/cooked with potato starch, so I can't say I was expecting much. The doughnuts were fantastic though!! Everyone loved them. They are very similar to a cruller. I recommend you try them if you have special dietary needs or not. Delicious!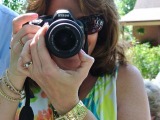 These turned out lovely using duck eggs in place of chicken eggs and fried in lard (because I'm old-fashioned like that). I'll be experimenting with tapioca starch in lieu of the potato starch for my nightshade-sensitive friends. :) And my family enjoyed all the varied shapes!
USE A THERMOMETER & ELECTRIC MIXER and also make sure to drop the batter in the size of a rounded teaspoon as the recipe says to do. These are good warm, not really so much at room temperature. I did not use a thermometer or electric mixer as I don't own them, I also dropped mine in bigger. Most of them did not cook 100% inside, 1 batch got too dark. Ours were 4 stars because I didn't follow the directions exactly. I used sweet butter (no salt) and canola oil plus the rest. I will only make these again if I have the tools to do so. Made for RECIPE SWAP #48 - January 2011.